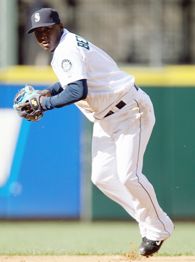 Finally, the season is over for the Mariners. Ironically, it ended with a sweep of the Oakland A's. It ended with J.J. Putz striking out the side with 98 mile-an-hour heat. In short, if you had missed the first 158 games of the year, you might have thought this team was right where it was expected to be. On the other hand, if you did catch glimpses of the previous 158, this final series was a little frustrating. The Mariners "blew" their chance to get the top pick in the draft. It is as if they cannot even win at losing. I will choose to be happy that the season ended with three wins in a row, and leave it at that.
Still, above all, I am happy that the worst season in Mariners history is officially over. Sure, they have had a few years with marginally worse records, but nobody can argue that any other season has been worse. I do not even know where to start. So many posts could be dedicated to so many issues with the season, the team, and the direction of the organization. Really, this post is all about saying hooray, this miserable season no longer drones on. Here are a few fun facts to think about as the M's offseason officially kicks off. I'll call them the good, the bad, and the ugly:
THE GOOD
Ryan Rowland-Smith as a starter: 12 starts, 72 IP, 73 H, 20 BB, 38 K, 10 HR, 3.50 ERA
Jose Lopez after the All-Star Break: .291 AVG, .323 OBP, .465 SLG, 10 HR
Ichiro still batted .300, got 200 hits, and 100 runs

THE BAD
Erik Bedard: Effective when pitching, but lambasted for not pitching through an injury that turned out to be very serious.
Yuniesky Betancourt: .277 AVG, .292 OBP, .387 SLG, .689 OPS - all lower than 2006 or 2007
Wladimir Balentien: .201 AVG, .250 OBP, .339 SLG, 78 strikeouts in 239 at-bats
THE UGLY
Miguel Batista: 6.26 ERA, 115 IP, 135 H, 79 BB, 73 K, 19 HR
Carlos Silva: 6.46 ERA, 153.1 IP, 213 H, 32 BB, 69 K, 20 HR
Kenji Johjima: .223 AVG, .272 OBP, .330 SLG in 376 at-bats, with a 3-year, $24 million contract extension kicking in next year
OTHER FUN FACTS
Record under John McLaren: 25-47 (.347 winning percentage)
Record under Jim Riggleman: 36-54 (.400 winning percentage)
Team batting before the All-Star Break: .254 AVG, .312 OBP, .371 SLG
Team batting after the All-Star Break: .281 AVG, .326 OBP, .414 SLG
Team pitching before the All-Star Break: 4.28 ERA, .265 BAA, .744 OPS allowed

Team pitching after the All-Star Break: 5.40 ERA, .292 BAA, .842 OPS allowed
Richie Sexson had a higher OPS than Bryan LaHair
Richie Sexson finished with the fourth-most walks on the team, despite appearing in only 74 games. He finished with the fourth-most strikeouts as well.

Felix Hernandez led the team in ERA by default. He was the only Mariners pitcher who logged enough innings to qualify for the league ERA title.
No doubt, it was a long, weird, painful season. There is plenty to think about, both positive and negative. It is going to be a big offseason, even if the team makes minimal moves on the free agent market, or through trades. Above all, the 2008 season has finally, mercifully come to an end, and it even ended on a surprisingly bright note.