*Although I am listed as the author, this post was written and sponsored by RateYourSeats.com.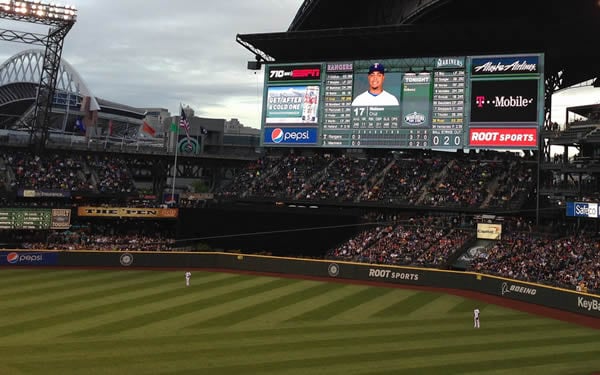 ABC News recently named Safeco Field one of America's
Best Ballparks
. Since its open 15 years ago, the park has been highly regarded for its stunning beauty, city views, great sitelines and upscale cuisine. More recently, it has gained attention for having one of the largest videoboards in all of sports. Fortunately for Mariners fans and baseball aficionados, there are plenty of inexpensive seating options throughout the ballpark.
Seeing the Jumbotron
Most sports fans aren't aware that the Mariners installed the largest videoboard in baseball – a videoboard that is wider than the much more famous big-screen at Cowboys Stadium. Section 325 on the first base side of the field offers a great view of the screen and great views of the Seattle skyline in left-field. The view of the field from Section 325 isn't so bad either. Tickets are usually $15-$25 apiece and are even cheaper in the higher rows where you can be covered and escape the summer heat.


King's Court in Section 150
For Felix Hernandez's scheduled home starts, Section 150 in left-field turns into King's Court. King Felix's personal cheering section has grown so large that it has spilled into Section 149 and 148. Tickets are specially discounted and include a t-shirt and yellow "K" sign to hold up each time King Felix records a strikeout. For the best views of the jumbotron, trying joining King's Court in Section 148 or 149.


Finding Value in the Expensive Seats
The lower level sections around home plate are often the most expensive tickets for a Mariners game. But with more than 40 rows per section, you can get great value in some of the higher rows. In Sections 126 and 135 you can find a Row 30-40 ticket for $30-$40, about half the price you'd pay for a ticket in the first ten rows. Even better, these seats tend to be less crowded than the closer seats and you'll be much closer to the culinary creations on the main concourse!
Whether you're looking for cheap seats or club seats,
RateYourSeats.com
helps you find the best seats at Safeco Field by providing in-seat photos, seat ratings and reviews – all on a super-charged
Safeco Field Seating Chart
. Next time you're looking to
buy Mariners Tickets
, use RateYourSeats.com to get the best seats!