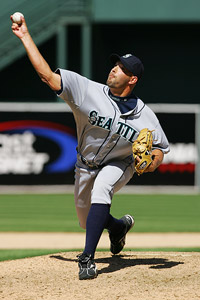 image from ESPN.com
It makes sense to trade
David Aardsma
. It has all off-season. His salary will go up, the Mariners don't have at one of money, and don't need a closer until they score a few more runs. Furthermore, David's value isn't likely to go any higher. It makes all the sense in the world.
However, if
this report
has any truth to it, David Aardsma may be around on opening day. Reports are that the M's are seeking an "impact" bat in return.
On some level, it makes a ton of sense to look for a bat with Aardsma. He is the Mariners most convenient trade chip right now, and their offense is still their biggest weakness. This isn't rocket science.
What exactly is an "impact" bat though?