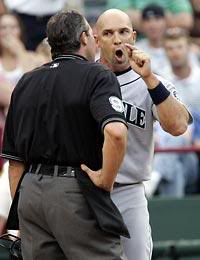 The Mariners' recently completed road trip was almost a total disaster. On the road trip the Mariners had a triple play turned against them that was really caused by lackadaisical baserunning, an alarming amount of sacrifice bunts and caught stealings, multiple shutouts, a walk-off home run in extra innings, grand slams hit in back-to-back games, and Raul Ibanez was ejected from a game for the first time in his career. Also, the road trip clinched the Mariners fourteenth consecutive losing month, a dubious achievement to say the least. In light of the downward spiral and obvious frustration surrounding the ballclub, I thought that if the Mariners were to lose yesterday Mike Hargrove might be fired. The scenario was too perfect: If the Mariners were to lose, Seattle would have had a winless road trip, giving ample reasoning to fire Hargrove. In addition, the off-day today would allow the team and media to absorb the major news without the pressure of a ballgame to prepare for in the evening. To top things off, the new manager could start off at home against the worst team in baseball.
However, Seattle showed plenty of spark yesterday and finished the dismal road trip on a higher note than even the most optimistic of fans could imagine with a 14-5 rout of the division-leading Rangers. The win must have made the flight back home much more enjoyable for the ballclub, and provides momentum through the off-day and into the weekend series against the hapless Kansas City Royals. The momentum is good for the ballclub, and may have saved Hargrove's job for the time being, but Mike is far from out of the woods yet. In fact, yesterday's win may have just delayed the inevitable another four days.
I think the Mariners absolutely have to win this upcoming series against the Royals for Mike Hargrove to keep his job. As regular readers of this blog know, Kansas City is incredibly bad, probably the only team in the American League right now that is clearly worse than the Mariners. Furthermore, Kansas City is literally as bad of a road team as Major League Baseball has ever seen (their 3-22 start on the road this year tied the worst start in MLB history) but just took two out of three in Oakland, so they come in on a little bit of a hot streak. Still, if the Mariners lose two or three against Kansas City (or what if they get swept?!) on the heels of such a dismal road trip, I do not see how Hargrove can avoid being fired. The pressure is on.