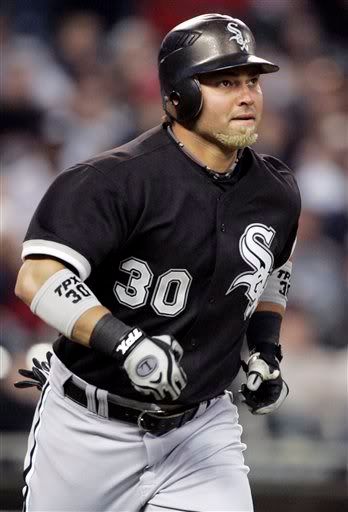 I do not know how many hypothetical trades I will pose this off-season, but I will do what I can to keep track of them. Here is the first that I thought of that might be somewhat realistic:
Mariners trade OF Jeremy Reed to the White Sox for OF/1B Nick Swisher


Why it makes sense for the Mariners:
Swisher would bring two things to the Mariners that they desperately need, power and patience. He also has a strong attitude that would impact the clubhouse, and he is used to winning. Neither would hurt this team right now. I see him playing first base every day for the M's, but he could also play some outfield if needed.
Why it makes sense for the White Sox:
Their GM, Kenny Williams, has already publicly stated that Swisher will not play in their outfield this season. Furthermore, first base is blocked by Paul Konerko, and DH by Jim Thome. There is no spot for Swisher on Chicago's roster. Jeremy Reed, on the other hand, is a much better fit. He is better defensively than Swisher, and would make a good fourth outfielder on the bench. Williams should still be fond of Reed since he was the one who drafted him, and the White Sox would also save significant money in the trade.
Problems with the deal:
Most anyone would agree that Swisher is the better player in this trade, but why I think it might happen is because Reed fits much better in Chicago's plans, and because Swisher still has 3 years and about $21 million remaining in his deal. The Mariners could easily take on that salary, and it is not that bad of a contract. On the other hand, maybe the Mariners would prefer to gain payroll flexibility, which this deal would hamper.
I could see this deal happening. It makes some sense for both sides. I never thought a guy like Nick Swisher would be available for a rather low price, and perhaps he is not. However, Chicago seems pretty interested in trading him. I would at least propose this deal to the White Sox and see how they respond.