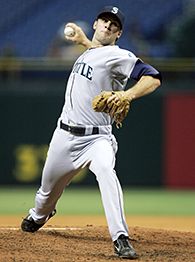 I was excited for tonight's game thanks to one of the more intriguing pitching matchups of the season: Brandon Morrow versus Joba Chamberlain. Both are young, flame-throwing righties. Both started their MLB careers in the bullpen. Both have since been converted back into starters (as both were in college), and both were converted without being sent back down to the minors. In lots of ways, Joba is the most comparable pitcher to Brandon Morrow. However, Joba was converted last year, and had all offseason to prepare for the starting rotation. With how similar Chamberlain and Morrow are, I was excited to sit and down and watch Joba, thinking he would be a glimpse of what Morrow may be in a couple months.
I was wrong, completely and utterly wrong. Neither pitcher did real well tonight - Chamberlain's line was 5.1 IP, 9 H, 3 runs (all earned), 3 BB, 4 K, and a Ronny Cedeno home run, while Morrow's was 4.2 IP, 5 H, 3 runs (1 earned), a whopping 5 BB and 4 K - but the box score hardly tells the story. These two pitchers struggled in very different ways.
Brandon Morrow was wild. Early on he got a couple bad breaks, courtesy a couple errors by Chris Woodward, and some ground balls finding holes. His stuff was great, as evidenced by lots of ground balls, and an assortment of broken bats. The Yankees were not getting good swings against him, and never really did. He simply started missing the strike zone badly.
Joba was no control master either, but his problem was nibbling. He few even fewer strikes than Morrow, despite significantly better command. The Mariners did get some good swings off him, especially once they got one look at him. What shocked me about Chamberlain was how predictable he was. I expected him to throw a ton of fastballs (as he should do with such an overpowering one), but he pounded the outside corner over and over. Moreover, I saw Joba shake Jorge Posada off several times, and each time he finally nodded yes he threw a fastball away. He treated every at-bat like it was a crucial one in the seventh or eighth inning.
If I only knew that both Joba and Brandon used to be relievers and was asked to pick which one has more pro starts, I would have picked Brandon Morrow. He mixed in more breaking stuff. He changed speeds on his fastball some, in particular only saving his best gas for two strikes. In general, he showed a good understanding of what it takes to be a successful starter, but a frustrating inability to execute pitches on a consistent basis. Meanwhile, Joba was rearing back and firing at close to full throttle, taking aim at the low outside corner every time. I was really surprised that Joba remains fixated on overpowering every hitter. He should be farther along as a starter by now. In this respect, Morrow already runs circles around Chamberlain.
Before tonight, I thought the Yankees were clearly making the right decision sticking with Joba as a starter. After watching one of his starts though, he needs to go to the bullpen. Mariano Rivera is at the tail end of his career, and Joba clearly has the mentality and stuff to become a dominant closer. Nobody has ever questioned that. However, 99% of successful starters do not try to overpower every hitter. Instead, they try to get a hitter to hit a tough pitch - perhaps so tough they end up striking out. Even the rare pitchers like Nolan Ryan or Randy Johnson, who arguably did go out in the prime of their careers trying to dominate every hitter, at least pitched inside and outside.
Looking down the road, Brandon Morrow should go to AAA, where he can work on his breaking balls. He needs to throw them more to get better command of them, which he really cannot afford to do with the pressure to win at the big league level. His stuff is electric, and he already has a solid feel for how to approach lineups as a starter. Execution is Morrow's downfall, and repetitions would hopefully do wonders.
As for Joba Chamberlain, he should go to the bullpen. Phil Hughes can take his spot in the rotation. The Yankees bullpen would be a ton better, and Joba would gracefully take over for Mariano Rivera whenever he retires. Joba still shows little to no feel for starting, which leads me to believe he will never develop much of one. With his stuff, mentality, and approach, he is meant to be a reliever.
I expected to see two similar young pitchers tonight. Instead, I saw two pitchers with different futures. They both have the stuff to succeed in whatever role they are thrown in, but they should end up in different places.