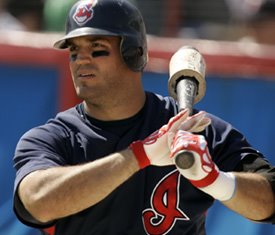 This morning, the Mariners signed
1B/"OF" Ryan Garko
to a one-year deal. Garko will earn $550,000 guaranteed, and could earn up to $1,075,000 through bonuses based on plate appearances.
In Garko, the M's are getting an uninspiring defender with a passable bat. The best qualities he brings is that he is right-handed, and for his career he has hit lefties much better than righties (.882 OPS against lefties compared to .749 against righties over the last three years combined). He is a right-handed bat with a little power, but that's about all he is.
It is hard to say exactly where Garko fits in. It seems that platooning him at DH with Griffey would be best (Griffey the past three years has a .715 OPS versus lefties, and .837 OPS against righties). That would leave Eric Byrnes, Milton Bradley, and Ryan Langerhans vying for two spots in the outfield. Bradley certainly has one of them.
This move is difficult to figure out because the Mariners might not know what's going to happen as of yet either. It may be up to who performs best in spring training. All of them could be kept if the team goes with an 11-man pitching staff too.
Plus, there are injuries to think about too. There is probably playing time for everyone throughout the season, as long as someone can go down to AAA from time to time.
The Mariners have one more option than they did at the start of the morning, and I'd pay $550,000 for that.