First of all, let's admire the play one more time: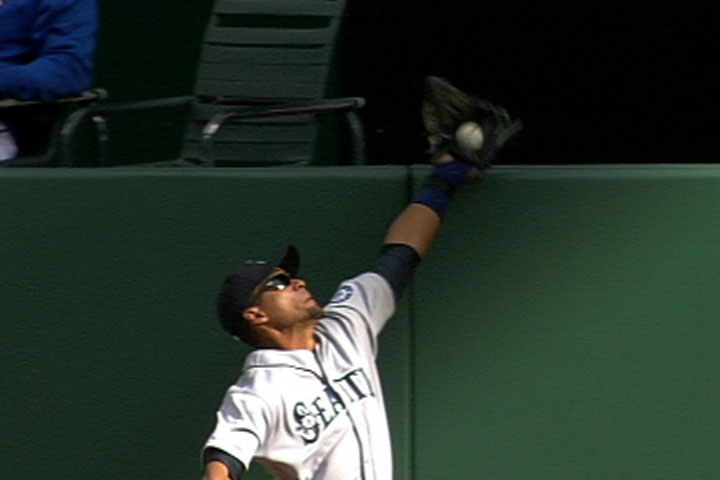 Here is the video
. I've watched it four times since it happened. It's not going to get old. It has a great chance to be the play of the year.
A ton happened in yesterday's ninth inning. The Mariners were on their way to a fifth consecutive loss, led by a punchless offense yet again. King Felix was on the hook for a loss he didn't deserve. The defense had a couple pretty bad miscues. The team looked as dead in the water as a team could look six games into the season.
Then a shaky closer came in, and the M's were smart enough to let him walk himself into trouble, and then the lineup turned over, and all of a sudden there was a glimmer of hope.
Then, there was Franklin Gutierrez.
With the game tied in the ninth, Guti banged a single just past the shortstop for his third hit of the game, bringing home the go-ahead run. The single was an exclamation point on a great day for Guti. But, because saving the M's from the jaws of defeat once wasn't enough, he went and made a catch that even Ichiro marveled at. Guti himself called it amazing after the game as well.
I asked in my brief
season preview post
back on Monday how good Franklin Gutierrez is. I went as far to say that he could get MVP consideration if the chips fall his way.
Keep it on the down low for now, but the first couple chips fell Guti's way yesterday. The Mariners do not win yesterday's ballgame (on national TV too) without him. He got a little luck to have the chance to drive in the game-winning run, but that catch...I am not sure anyone else in baseball could have made that catch.
I'm serious. To start with, Gutierrez had to have the pure speed and leaping ability to get to the ball. On top of that, he had to have the anticipation and skill to navigate a tricky wall, while timing his jump perfectly to
intersect
with the ball's path. Most leaping grabs are made by players running along the same path as the ball, or standing in place, then leaping. However, Guti was cutting across at full speed as he bounded. The play took an insane combination of ability and skill to pull off.
Anyway, back to Guti as an MVP candidate. Consider this: he had three hits at the plate yesterday, including the game-winner, yet all anyone can talk about is his defense. It is only one game, but there aren't many players in baseball that are capable of a game like that. While it is way too early to say anything definitive, Franklin Gutierrez is a darkhorse MVP candidate until further notice.