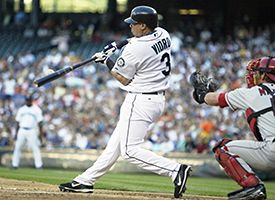 I went away on vacation over two weeks ago, and I just got back yesterday. I did not have any ridiculous hopes of some miraculous turn-around or amazing trade happening while I was away. However, I had a list of fairly realistic things that I hoped the Mariners would do while I was gone:
Get rid of Jose Vidro
Begin transitioning Brandon Morrow into a starter
Trade Miguel Cairo and/or Willie Bloomquist
Trade Jarrod Washburn and/or Miguel Batista
Get rid of Jose Vidro
Admittedly, trades take a partner, so I realized wishes three and four may not happen even if the Mariners tried. From what I've gathered, Jarrod Washburn was quite close to being shipped ot the Yankees, but the Mariners had too high of an asking price. As disappointing as that was to hear, I was going to be quite upset if one, two, and five had not been taken care of. Thankfully, they were...though it took until the very last day of my vacation.
The timing of the moves really says something about the state of the organization right now. It is in better shape now, because I doubt the Bavasi/McLaren combo would have considered releasing Vidro, or moving Morrow from the bullpen. However, the current interim regime seems to have a hard time pulling the trigger on even the most obvious moves. I understand a reluctance to make major trades that would alter the franchise for years to come, given the interim status. However, everyone could tell that Vidro was not helping the ballclub now, and he certainly had no future with the team either.
The Morrow "conundrum" was even more pathetic. Supposedly, the organization as a whole was split on what to do with him. Those who wanted him to remain in the bullpen argued that there is no guarantee he will be as good as a starter, and that was apparently a good enough argument to keep him from transitioning for months. How pathetic is that? I happen to agree with the argument, yet also think that it is obviously the right move to try Morrow as a starter. This season is now all about evaluation, as even the Mariners have admitted. So, will there ever be a better time to try Morrow as a starter, and take the risk that he may be much worse as a starter than a reliever? Hopefully not.
At least the Mariners are getting better, but much too slowly. I understand that outside help through free agency and major trades has to wait until the off-season, once a permanent GM and manager are hired. However, there is no excuse for how long some of the blatantly obvious internal moves have taken. At least they finally were made, but whoever takes over next year needs to be more punctual.