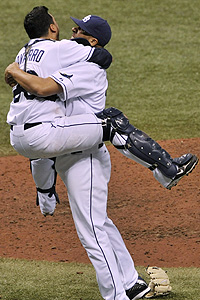 October is a crazy time of the year, and it has been much too long since I have written a new post. It is not as if their is a shortage of attention to playoff baseball in the media though. Now it is time for me to weigh in on the World Series. I doubt many had the Rays and Phillies back in April, but that is where we stand now. It is a fresh match-up, so on some level it does not feel like it has gone through the sports media meat-grinder of over-analysis quite yet (though I am sure it will have by Wednesday).
Instead of inundating with analysis, I prefer to provide some numbers to shed some light on what the series may look like. Using a version of the formula I use to project the standings throughout the year, I can project the percentage chance of all the series outcomes. Also, using my player rating formulas, I can rate each team's hitting and pitching. So here it is, the 2008 World Series by the numbers:
RATINGS
Hitting
Philadelphia - 77
Tampa Bay - 77
The stats don't notice...
that Rays center fielder B.J. Upton had a bum shoulder most of the year, and is obviously feeling much better. With two home runs in the World Series, he will have hit as many home runs in the playoffs as he did the entire regular season. The Rays offense is better right now than it appears to be on paper.
Starting Pitching
Philadelphia - 76
Tampa Bay - 78
The stats don't notice...
that pitching rotations shorten in the playoffs. This probably does not impact the Rays rating all that much, but it does make a difference for the Phillies. Cole Hamels is clearly their best pitcher by far, and he is what gives the Phillies a slightly above average staff. Philly's playoff rotation is probably a little closer to the Rays one than the numbers suggest.
Relief Pitching
Philadelphia - 76
Tampa Bay - 80
The stats don't notice...
that Troy Percival is not in the Rays bullpen, and the highly inexperienced David Price is. The Rays trumpet the praises of what Percival's veteran presence brought, but to be honest his contribution on the field is replacable. Price has electric stuff, and unbelievably it was him that closed out game 7 of the ALCS. Price is a wild card; he could make the Rays bullpen significantly better than the already lofty ranking indicates, or he could be a liability. It is hard to tell because he has pitched so little.
SERIES PERCENTAGES
Phillies win in four - 6%
Rays win in four - 7%
Phillies win in five - 12%
Rays win in five - 14%
Phillies win in six - 15%
Rays win in six - 16%
Phillies win in seven - 15%
Rays win in seven - 16%
Phillies win the World Series - 47%
Rays win the World Series - 53%
This should be a close series. It is debatable how big of a deal playoff experience is, but it does not really matter in this series because neither team has much of it. Popular belief may be that the Rays and Phillies are built very differently on offense, but honestly they are not. While many experts will likely point to Tampa Bay's speed and how it contrasts with Philadelphia's power, both teams are patient and hit more than their share of home runs. The Rays have emphatically shown their power in the postseason, and they also hit 180 home runs in the regular season.
Pitching is what will decide this series. The Rays have young guys with incredible stuff, and they have stepped up big time (Matt Garza's line in game 7 is sick if you haven't checked it). Cole Hamels is the best pitcher on either staff, but overall the Rays still have an edge. The bullpens in particular will play a pivotal role. We have a good idea what we will get from the Phillies, but what about the Rays? Their bullpen looks completely different with David Price than it did at any point in the regular season.
The key players to watch in this series are
Jamie Moyer
for the Phillies and
David Price
for the Rays. Moyer has for the most part had a bad postseason. He is going to need to be the Jamie Moyer that showed up in the regular season, and if he is, the Phillies odds of winning this series go up significantly. Otherwise, the series could potentially be over quick. As for Price, as I said earlier, he is a total wild card. He has incredible stuff, but virtually no experience. In that regard, he is similar to Francisco Rodriguez when he first came up for the Angels.
I believe in David Price, and I believe in the numbers. I also believe we are due for a good World Series. I'll pick the
Rays in seven games
.