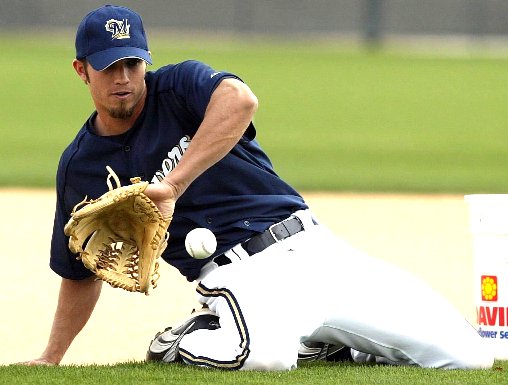 We knew JJ Hardy was getting dealt this offseason. We also knew that the Twins could use a long-term answer at shortstop. Today, the Twins and Brewers announced a rare one-for-one swap today. Milwaukee sends
SS JJ Hardy
to Minnesota. The Twins send
OF Carlos Gomez
to the Brewers.
This is a tremendous deal for the Twins. Orlando Cabrera was a good stop-gap deadline pickup, but he is getting old. Hardy fits in with Minnesota's style of solid fundamentals. He plays a great defensive shortstop, and adds a little right-handed pop to the lineup. If he bounces back some at the plate (as he should), he will add some nice depth in the lineup behind Mauer, Morneau, Jason Kubel, and Michael Cuddyer. Carlos Gomez is not a huge loss to the Twins either, given the emergence of Denard Span. Gomez is young, and has lots of potential, but Hardy is a long-term solution at a position of much greater need for Minnesota.
As for the Brewers, I wonder a little what might have been. Hardy was Milwaukee's best trade chip, and has been for the past year. Additionally, their biggest holes were clearly in the starting rotation. Since Mike Cameron is a free agent, Carlos Gomez presumably takes his place in the starting lineup. He is one of the few guys who is actually a defensive upgrade over Cameron, but he is a far cry from Cameron at the plate (and I think always will be).
Carlos Gomez is a nice acquisition for the Brewers, and it wouldn't surprise me if he breaks out a bit at the plate in 2010. Between him and Alcides Escobar, Milwaukee may finally be able to shift Rickie Weeks down in the lineup, where his power and patience can be better used to drive in runs. Still, with such glaring holes in the rotation, and such a valuable trade chip as Hardy, I would not have pulled the trigger on this deal so fast. I would have wanted to see if other offers would have come in. I don't think this is a bad deal for Milwaukee, but it's not a slam dunk, and it would have taken a slam dunk for me to trade JJ Hardy a little over 24 hours into the offseason.