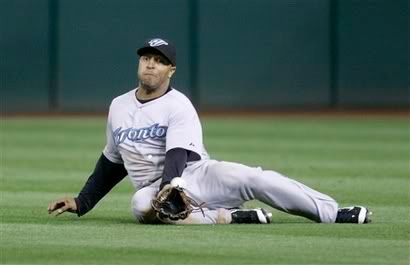 For my money, the Angels have had the most surprising offseason in baseball. I wasn't stunned that they didn't get
Carl Crawford
, especially since he ended up in Boston. I was stunned though that they couldn't entice
Adrian Beltre
. They just about had to do something after missing out on both premier free agents, with an offense that sagged in 2010.
Of all the possible answers out there though, it ended up being
Vernon Wells
?
As a Mariners fan, I like this solution that Los Angeles of Anaheim came up with (if they are dumb enough to continue to use such a convoluted "city" name, the least I can do is use it).
Wells is a nice player, but not the $20 million kind of nice he is going to get paid each year through 2014. Well, I guess I should be fair and point out that Vernon could opt out of the contract after this season, but again, I think even he would admit he isn't $20 million kind of nice at this point in his career. Los Angeles of Anaheim made themselves quite the investment with this trade.
From the looks of it, Mike Scioscia will shift Wells over to left field, keep
Torii Hunter
in right, and let young
Peter Bourjos
continue to dazzle and develop in center field. Looking at the stats and scouting reports (especially defensively) it is easy to say that it is what any reasonable person would do. However, Scioscia is moving 12 combined Gold Gloves, all won in center field, literally off to the sides to let a veteran of 51 MLB games be the captain of the outfield. I have to give some credit where credit is due.
I don't want to give Mike too much credit though. There is excitement over the Los Angeles of Anaheim outfield being one of the best in baseball. However, at this point, they have a couple adequate defenders in the corners, and a prodigy in center. It is a darn good outfield, but I doubt it is the best. Maybe if the rally monkey stopped prancing around the scoreboard and went out there with them, it would be the best.
Vernon Wells posted a 4.0 WAR last year. He contributed a combined 3.0 WAR to the Jays in the three preceding seasons combined. He is 32 years old. What exactly is Los Angeles of Anaheim getting in this deal?
It will all depend on how much power Wells packs with him. He is at an age where that could erode, and on top of that, his power numbers have been all over the place for the latter half of his career to date. From 2006 to 2010, here are Vernon's ISO rates in chronological order: .239, .158, .197, .140, .242. For his career, his ISO is .195. He could hit 15 home runs; he could hit 30. We'll find out.
As unscientific as this is, I felt pretty confident predicting that Vernon Wells would recede significantly in 2011 - until Los Angeles of Anaheim acquired him. They have this annoying habit of making deals that always work out for them, sometimes (from what I see) magically. Still, I think Los Angeles of Anaheim has visions of a 30-homer Gold Glove winner, and I think that's delusional. 20 home runs with modest defense is, well, more modest.
To acquire Vernon's services, Los Angeles of Anaheim gave up
Juan Rivera
and
Mike Napoli
. Rivera is the same age as Wells, plays worse defense, and might be a worse hitter at this point too. On the other hand, Napoli provides good power from catcher, though with iffy defense. Overall, he is a nice player to have around, and he fits the Jays well (more on the Jays a little bit later). From Los Angeles of Anaheim's perspective though, Napoli was rather expendable with
Hank Conger
around in AAA.
Even if Wells turns out to be a shell of the player the Los Angeles of Anaheim front office thinks it is getting, I think the deal would still be fair from a talent standpoint, particularly considering the Los Angeles of Anaheim roster. However, Vernon's huge contract has limited their financial flexibility, which will come back to haunt them if he turns out to be a bit of a bust.
Meanwhile, up in Toronto, Alex Anthropoulos has put together a dynamite offseason with little fanfare. The Wells trade freed the franchise of an albatross of a contract. They already have Vernon's replacement with
Rajai Davis
, acquired in a trade earlier in the offseason with Oakland (in which they only gave up a few solid relief prospects). Additionally, Mike Napoli gives the team needed insurance at catcher and first base, where
J.P. Arencibia
and
Adam Lind
are being counted on to take steps forward.
Anthropoulos also pulled off the most underrated deal of the offseason, at least in my book, when he traded away
Shaun Marcum
to the Brewers for their top prospect,
Brett Lawrie
. Marcum is good, but so is Lawrie - and Lawrie is nine years younger and plays a more premium position. He is even from Canada, as an added bonus for the Jays marketing department when he is a starter for the team in a few years.
Back to the trade at hand though. I have learned to hesitate when it comes to Los Angeles of Anaheim deals. Torii Hunter has worked out much better for them than I expected.
Kevin Jepsen
is better than I ever thought he would be too. When Scioscia and Los Angeles of Anaheim say a ballplayer is going to be good for them, I have to respect them at this point. They think Vernon Wells will be good for them.
Still, this trade is a win for the Jays. I can't believe they were able to unload Vernon Wells without picking up a dime of what he is still owed. On top of that, they even got somebody of value in return. Anthropoulos needs to thank Wells for his revitalizing 2010 campaign, but still, Alex ran with a turn of good fortune much farther than I thought he could. He is quietly asserting himself as one baseball's better GMs.