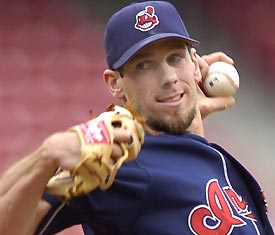 The Cliff Lee deal is probably hours away from being official. Word this morning is that somebody failed their physical (perhaps Aumont?), so maybe I am jumping the gun. I'll cross my fingers and say the deal still gets done somehow.
As of yesterday, there were still whispers of someone besides Lee coming to the Mariners, so perhaps we do not know all the details quite yet. Still, it's obvious that
Cliff Lee
is the centerpiece coming to Seattle, and
Phillipe Aumont
,
Tyson Gillies
, and
JC Ramirez
is the price the M's paid.
There's that whole
Roy Halladay
end to the trade too. That's kind of a big deal.
There are also reports that
Michael Taylor
will go to the A's for
Brett Wallace
, once Taylor officially goes to the Blue Jays in the impending blockbuster Lee-Halladay blockbuster duel deals.
As of now, including that aforementioned A's-'Jays side deal, four teams and nine players are involved at the least. It is a complex deal, and rather than go through the entire thing, I'll stick to this blog's title and muse about the Mariners.


The players the M's gave up, although young prospects, are guys we've heard about. Gillies was in the Futures game over the summer, and so many (including me) have written about him. He has tremendous speed, and coaches say power will start to pop through. Aumont has been on the radar ever since the M's made him their first round draft pick a couple years ago. As we saw in the World Baseball Classic, he has the kind of stuff to make guys like David Wright look completely overmatched. However, he does not have the control to do that on a consistent basis, as evidence by struggles in AA and the Arizona Fall League.


JC Ramirez (also known as Juan Ramirez) is an interesting third prospect in the deal. Scouts universally rave about his stuff and his mental make-up. Although I'm yet to see him, it seems that he looks like a top-of-the-rotation starter in the making. The catch is that his production is yet to match that potential, and he is on the verge of AA. Ramirez is still young, and I respect scout evaluations. However, prospects destined to be impact MLB players tend to "out-talent" others in low-level minor leagues, in my experience. Whatever flaws they have can't be exposed by the level of talent. That's not the case with Ramirez, though he has had flashes of brilliance.


Do I really have to say much about who the M's are getting? Cliff Lee is awesome. We saw him own the Yankees in the World Series. That's Lee at his finest. He is durable, he is a workhorse, and he is unflappable. He's worth at least double his $9 million salary in 2010. Lee also only has only one year left on his deal though.


I am still in shock about this deal. It's a total steal for the Mariners. Aumont is nice, but the M's have other power bullpen arms. David Aardsma isn't going anywhere for a few years (provided he stays as effective as he was). Mark Lowe is young too, and Josh Fields was in AA and the Fall League along with Aumont, and outperformed him at both levels. Aumont is a talented young pitcher, but redundant.


Lots of the same can be said about Tyson Gillies. I'm sad to see him leave, but Michael Saunders has already made the majors, Ezequiel Carrera should be in AAA to start 2010, and there's Dustin Ackley now too (although maybe he's the future at second base). At the MLB level, Gutierrez and Ichiro aren't going anywhere anytime soon. There is still a bit of a glut in the outfield, even without Gillies.


Lastly, JC Ramirez is far from a sure thing, considering he is yet to have good production. With the pitching depth Z has added the past year, and impending returns of Ryan Feierabend and Michael Pineda from injuries, JC's loss is more than manageable.


In other words, the Mariners are on the verge of acquiring a Cy Young award-winner in his prime for three prospects they already have replacements for in their system. That's a little different than the Bedard deal, agreed?


Furthermore, Cliff Lee will almost certainly be a Type A free agent, and if he leaves the Mariners, will even more certainly join a contender. That means if he walks, the M's will get two draft picks, the signing team's first-rounder, and a compensatory pick between the first and second rounds. So, even if Lee walks at the end of the year, Seattle should have a chance to directly replace two of the prospects lost with comparable (or maybe even better) ones. That's the worst case scenario in this deal.


Not bad, not bad at all.


Enough about risk management. The Mariners just acquired Cliff Lee, a Cy Young award-winner in his prime. They ripped headlines away from the Red Sox as they signed John Lackey to a monster deal. They dashed the Angels' hopes of acquiring Roy Halladay. They may very well have shifted the balance in the AL West with this deal.


Seriously, dream with me for a second. Let's say the M's beat out the Rangers and Angels for the AL West title. That's looking more and more reasonable by the day. Even without an offense that lights the world on fire, what team would want to face Cliff Lee and King Felix in a short series? Those are low-scoring games waiting to happen, and one of the lineups will have Ichiro and Chone Figgins at the top, and the other won't. That's a nucleus a team can ride to a championship. It's not enough by itself, but it is a long ways towards enough.


It's a whole bunch closer than Jose Vidro and Miguel Batista, that's for sure.


This is the biggest trade in Mariners history. Cliff Lee probably is not the greatest pitcher the Mariners have ever acquired in a trade. That honor has to go to Randy Johnson. However, Randy Johnson wasn't the Big Unit when the M's got him. He was an erratic, but promising, lefty. On the other hand, Cliff Lee is Cliff Lee. He is a finished product. He is a Cy Young winner. He threw a complete game shutout in game one of the World Series against the eventual world champions only a couple months ago. The Mariners have never acquired a player of Lee's caliber in his prime.


This is huge. This is what the big boys do. This is a statement. Even if the report of the failed physical makes the whole deal fall apart (which would be devastating), the statement has been made. Jack Zduriencik has the guts, the brains, and the skills to pull off mega-deals. I think we all saw that potential with the Putz trade, and all the rumors that swirled at the Winter Meetings.


It is no longer potential though. Z pulled off this deal. A failed physical would be an unfortunate glitch. Physicals don't happen until the sides of discussed and agreed to the deal though. (Honestly, I don't think a failed physical stops the deal at this point too)


The statement has been made. Angels, we're coming for you, and we will catch you. It's only a matter of time.