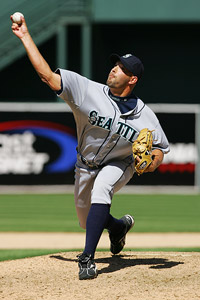 image from ESPN.com
It makes sense to trade
David Aardsma
. It has all off-season. His salary will go up, the Mariners don't have at one of money, and don't need a closer until they score a few more runs. Furthermore, David's value isn't likely to go any higher. It makes all the sense in the world.
However, if
this report
has any truth to it, David Aardsma may be around on opening day. Reports are that the M's are seeking an "impact" bat in return.
On some level, it makes a ton of sense to look for a bat with Aardsma. He is the Mariners most convenient trade chip right now, and their offense is still their biggest weakness. This isn't rocket science.
What exactly is an "impact" bat though?
I went to
Fangraphs
, and looked at the
2010 wOBA leaderboad
. The top 50 wOBAs are listed. Do you think David Aardsma could get any of those guys? Granted, I'm looking at a somewhat arbitrary top 50 list, but we are talking about an impact hitter. Is it that crazy to say that an impact hitter would have a top-50 wOBA? With 30 teams in baseball, a majority of teams would be expected to have two hitters in the top 50.
Does "impact" mean that they dramatically improve the M's offense? That's a notably different definition than a top-50 wOBA. The Mariners got bottom-of-the-barrel production at multiple positions last year, so an "impact" player could really just be a mediocre one.
The other problem is finding a team that might have interest in Aardsma. There aren't many closing jobs open right now, especially among contenders. Poking around tonight, I only came up with a few trade scenarios that might be able to happen:
Aardsma and Jack Wilson to the Brewers for 3B Mat Gamel - Are the Brewers really sold on Yuniesky Betancourt at shortstop? Maybe they would think that a move back to the NL would help Wilson out. Also, Milwaukee is clearly in win-now mode, and might have some interest in loading the back end of their bullpen to compliment their suddenly strong rotation. Gamel is blocked by all sorts of hitters better than him, and he's getting a bit older (though I also think he might be the heir apparent to Prince Fielder, if/when he leaves in free agency). I don't think Wilson and Aardsma fit big enough holes in Milwaukee to pry away Gamel though.
Aardsma and Milton Bradley to the Phillies for Raul Ibanez and Joe Blanton - This is a deal that I think the Phillies would make, but I'm not sure it makes sense on the M's end. Philadelphia gets some more insurance for their perpetually rocky (yet oddly effective) bullpen, and dump their 2012 commitment to Blanton. Mariners nation would welcome Ibanez back with open arms, and Blanton would be a nice addition to the starting rotation. It makes more sense if the M's could kick in more money, but they can't.
Those are the most realistic deals I can come up with right now. Something could have worked with the Braves involving
Chone Figgins
and
Nate McLouth
too, but they filled bullpen holes in free agency.
Still, would Nate McLouth be an impact hitter? Raul Ibanez? Mat Gamel? If so, are they bigger impact bats than some of the remaining free agents, namely guys like
Carlos Pena
,
Adam LaRoche
, and
Johnny Damon
?
It looks to me like the Mariners are going to hold on to David Aardsma for now. There simply isn't a good fit for a trade right now, but that is likely to change during the season. Somebody's closer is going to get hurt and/or be ineffective, and then there will be someone wanting Aardsma's services.